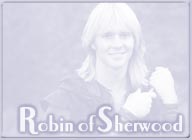 © Tonica
Nothing is forgotten.
British tv series, 1984-1986.
Robin (Robert of Huntingdon) is The Hooded Man, Herne's son. He and his merry men, and his beloved Marion (of Leaford) live in Sherwood Forest. Another important character is Guy of Gisburne, who works for the Sheriff. He is also Robin's half-brother.
The stories are written to be read in the order they appear on the page.
The Golden Boys
Chattel
Brothers In Arms
Hazy Shade Of Winter
Winds Of Change
Time After Time
Friends In Low Places
This is another type of Robin of Sherwood fic, and isn't part of the above chronology:
Escape to Sherwood
Chapter 1
Chapter 2
Chapter 3
Chapter 4
Chapter 5
Chapter 6
Chapter 7
Chapter 8